Xerox Docushare Flex – key features
Easy to Use: Simple setup and configuration, SaaS-based cloud delivery and a user-friendly, intuitive interface mean that deployment of DocuShare Flex takes days, not months, with little to no training or IT support required. Access content anytime, anywhere, and leverage a full-text search engine to find files in mere seconds.
Mobile: Today's workplace is mobile — you take your work with you. The DocuShare Flex App allows you to log in, search and view documents, download, upload and share them, perform mobile capture, and easily complete tasks such as document approvals. With the app, critical business activities can move ahead, wherever you are.
Secure: Xerox follows industry best practices in cloud security, including encrypted user authentication, scheduled backups, off-site storage and site replication. Administrators can control rights and permissions — who can access, author and view documents; enable automated data archiving, reviews and destruction; and benefit from reporting and security audit trails.
Scalable: DocuShare Flex grows with your company, scaling to changes in user numbers, storage space and process requirements. In addition, you can choose concurrent use licensing — an attractive option if your organisation has a limited number of users accessing Flex on a regular basis.
https://www.xerox.co.uk/en-gb/services/enterprise-content-management-solutions/docushare-flex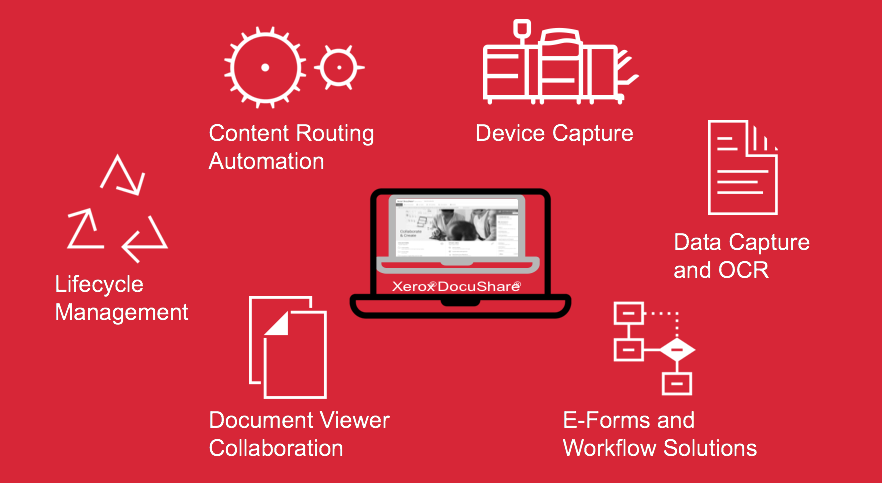 Get in Touch
Orders – 0844 880 6906
General Enquiries – 0844 880 6905
Technical Support – 0844 880 6907
Sales and Marketing – 0844 880 6905
For more information please complete the contact form below: