The Workplace Assistant Platform
Available on all Xerox ConnectKey ® products:
Apps automate processes and improve productivity
Purchasing and installation is push-button simple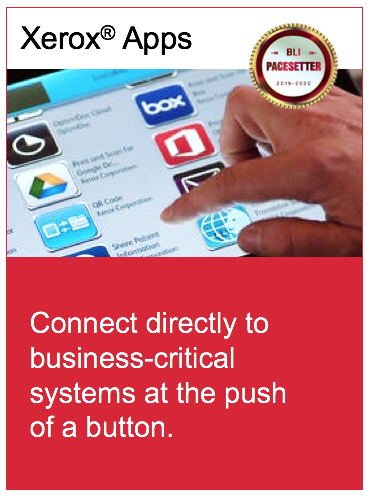 Apps are a simple way to provide valuable, time-saving solutions to specific business process pain-points.  They are also simple to deploy.  Just like those on a smartphone, you can purchase and download an app in a few moments, taking weeks or months out of the traditional software sales cycle.  Apps exploit the Xerox ConnectKey Technology embedded in Xerox Workplace Assistant machines and give you opportunities to increase the value of your devices.
The Xerox App Gallery is where you can create customisable apps as well as find and download ready-made apps.
The Xerox App Gallery is your gateway to a growing collection of easily downloadable and installable apps designed to transform the way you handle documents and data. Simplify those time-consuming, repetitive or complex processes by extending your printer's capabilities in unexpected ways. With these easy-to-use apps, your Xerox® ConnectKey® Technology-enabled printer or MFP becomes a well-connected, simple-to-use, smart workplace assistant.
https://www.office.xerox.com/latest/SFTFS-38E?ts=2020031210471228
Get in Touch
Orders – 0844 880 6906
General Enquiries – 0844 880 6905
Technical Support – 0844 880 6907
Sales and Marketing – 0844 880 6905
For more information please complete the contact form below: